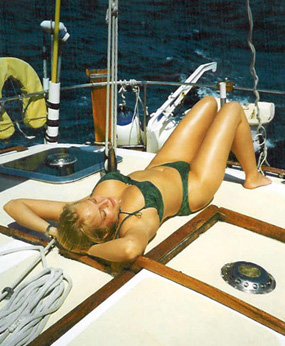 *Sometimes, I just love my life !! *
Denmark is a great contry - but so is Sweden, our neighbour.

Went on a weekend-trip to Sweden, to relax, sail the kano and look at the moose.
It was a wonderful trip and defenately not the last time I drive over the Oresund.
Just arrived back from south Africa. I was so lucky to get to go home to a fantastic summer.
I enjoyed it very much, with some of my close friends.
I just had to try beeing a redhead.
I look a bit tired, but that's not the case at all.

Working in the airport we sometimes have to greed the top sports people. Here I got to try the silvermedal, when our champs in handball, came home.....


Party with the collegues 2003


Party with the collegues 2004

???

Party with the collegues 2005

This picture is taken by a proff. photographer...
Looks good, doesn't it?
...I do look 10 years younger...


...well, I can always take the pictures myself if i'm out of photographers
| | | |
| --- | --- | --- |
| | Click the pictures to enlarge | |


Now, if I have to be completely hornest, I actually have to wear my glasses al the time. .....I use +6,5 og +3,75 , if you know about that.. But really..i hate them.and most of the time they stay in my forehead.
One day I hopefully will get it fixed by surgery.


I might not be a big achivement for some, but for me and my friend Nanna, our 5 km. was great!

Today (2005) I run 10 km. trying to get to ˝ a marathon.


This is where I use to work in Copenhagen airport. I worked for the company M*A*C. teaching the costymers how to apply a makeup. Coaching in how makeup can become a little magical for them and of course selling a lot of makeup.



In 1999 I won the danish award 'Robert' for the best makeup in danish featurefilms.
It was a great night and a fun thing to try....


I try not to be to supersticious, but this night I kind of had to.
I had bought a brand new necklace to wear this evening, but as I was to put it on, and replace the ones I had gotten from my mom, I just couldn't.
I felt like I had to bring some of her strenght and one of the necklaces was for good luck, so in case I had to walk up there, on stage, to say thanks, in front of 500 of the top people in the business....

- and I had to


I love seeing new things, even in my own little contry. I enjoy very much to just sit at a café in copenhagen or just watching people somewhere.
Sometimes the danish summer can be amazing



My mothers dog Mickey...
He is no longer with us.

10. august 2005
Now Amalie has become my mothers little angel.


Well...it's been a while!
Meet my very talented girlfriend Nanna Go have a look at her website (click her name)
These pictures are taken at a live-concert seh did, to make a video.
I did the makeup, and you can see it if you click the smiley..


Does it bother you if I drewl a little ???

This is another friend. He is a pilot, and took me to try to fly.... I did the steering!! SO COOL!
| | | |
| --- | --- | --- |
| Very very concentrated. !! | | |

I always look forward to go diving, whenever I travel.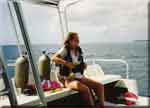 This is Barbados
Just hanging other friends of mine....always a pleasure!!
We love food!!!!